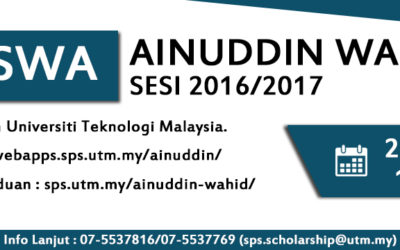 Tan Sri Ainuddin Wahid Scholarship
General Requirements
Applicants must be of Malaysian nationality;
Not exceeding 35 years of age by 1 January 2017;
Currently enrolled in first year of doctoral studies in Universiti Teknologi Malaysia..
Academic Qualifications
Achieved a minimum grade of 3.50 in First degree study from Universiti Teknologi Malaysia or other recognized universities;
Achieved a minimum grade of 3.70 in Master degree for Course Work and Mixed Mode;
Achieved a minimum Band 4 in Malaysian University English Test (MUET) or IELTS 6.5 or TOEFL ≥ 600 / TOEFL iBT ≥ 85;
Excellent mastery of both Malay and English language.
Other Requirements
Currently not bonded to any employees;
Priority will be given to candidates that prepares a research proposal which has a potential benefit towards knowledge development;
Succeeded in producing and publishing acknowledged academic works;
Displayed exceptional leadership qualities, flexibility, versatility, and good teamwork capabilities;
Displayed top of the class attitude in academics, co-curricular, community service and sporting activities;
Applicants are bound to the terms and regulations of the Ainuddin Wahid Scholarship, Universiti Teknologi Malaysia;
Applicants have to attend an interview for recipients selection purpose.
CLOSING DATE : 19 MARCH 2017
MORE INFO AND APPLICATION CLICK HERE